Sail the seven seas with this impressive Barbarossa pirate ship. All aboard a classic, award-winning wooden toy boat. Painted in striking black, with billowing fabric sails and adorned with a traditional skull and crossed swords' motif for an authentic look and feel. Full of fun features to discover, including;
**Now with 2 wooden pirates**,
A crow's nest,
A 'walk-the-plank',
Rigging,
A wind-up anchor,
A deck trap-door,
A helm,
A rear opening stern for access.
This highly detailed toy is crafted from durable wood, built to last and sustainably sourced for eco-friendly play.  This plastic free toy makes a special gift, for inspired adventures that last a lifetime of play.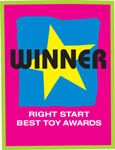 Suitable for ages: 3+ years
Product is constructed from: FSC®-certified wood (wood from sustainably managed forests) and decorated with child safe water based paints.
Package Dimensions
44cm L x 17.5cm H x16.5cm W